In the fast-paced world of digital content creation, efficiency and optimization are key. As a blogger exploring different software tools, I was intrigued by two particular softwares: DocPress and SurferSEO.
In this article, I will share my first-hand experience using both tools and highlight their unique features and benefits.
Exploring DocPress: My Path to Streamlined Article Creation
When I discovered DocPress, it immediately became an essential tool for my blog writing and SEO strategy. What's more, I was pleasantly surprised to find that DocPress has received a stellar five-star review, further solidifying its reputation as a top-notch tool.
With its seamless integration with Google Docs , I was able to write and collaborate on blog posts effortlessly within the familiar interface.
What truly sets DocPress apart from other platforms is its utilization of artificial intelligence (AI).
Whether I was feeling stuck or in need of fresh ideas, the AI writing tools came to the rescue. With their assistance, you can now effortlessly create blog post ideas and rewrite text in Google Docs.
They effortlessly generated article ideas, crafted captivating introductions, and even offered assistance with writing text.
Another thing I absolutely love about DocPress is its ability to effortlessly add images to your articles for free. This feature saves you valuable time that would otherwise be spent searching for images and their sources.
But it didn't stop there. DocPress excelled in providing comprehensive SEO support. With its built-in SEO analysis, I could optimize my content directly in Google Docs. The platform checked for important SEO factors, including word count, appropriate placement of target keywords, alt text for images, and more.
See Also How to Do Keyword Research for Your WordPress Blog and Other SEO Tips
This ensured that my content was search engine-friendly and had the best chances of ranking high in organic search results. It provided a score and recommended improvements to help me achieve a perfect 10.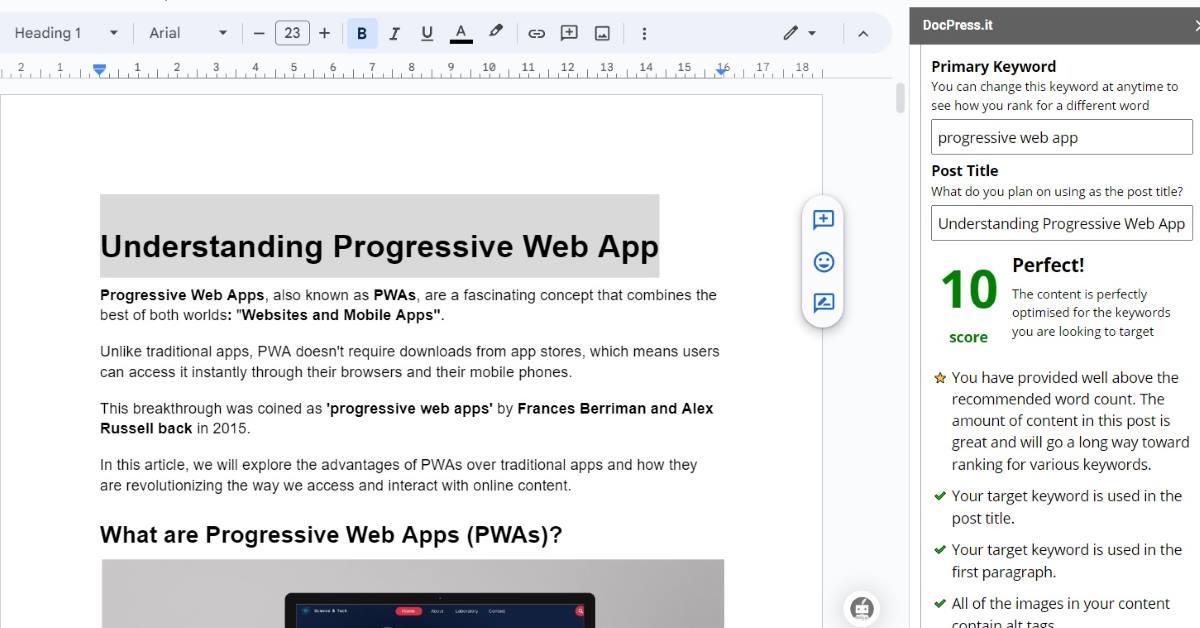 With just a few clicks, I could seamlessly transfer my articles from Google Docs to my WordPress website. Whether I wanted them published as blog posts, pages, or even custom posts, DocPress had me covered.
DocPress Pricing
DocPress offers a range of pricing plans to suit different needs. The free plan provides a great starting point, giving access to the essential tools.
As your blog grows, upgrading to the Pro Blogger, Business, or Agency plans unlocks additional features such as more sites, increased export limits, and higher AI credits.
Pros of DocPress:
Seamless Integration with Google Docs: Write and collaborate on blog posts within the familiar Google Docs interface.
AI Writing Tools: Utilize AI-powered tools to generate article ideas, create captivating introductions, and assist with text rewriting.
SEO Analysis: Optimize content directly in Google Docs with built-in SEO analysis, including word count, keyword placement, and more.
Easy Export to WordPress: Effortlessly transfer content from Google Docs to WordPress as blog posts, pages, or custom posts.
Flexible Pricing Plans: Choose from various pricing plans, including a free option, to meet your specific needs and budget.
Cons of DocPress:
Limitations in the Free Plan: The free plan may have restrictions on the number of users, sites, and monthly exports.
Learning Curve: Users new to Google Docs or AI-powered writing tools may experience a slight learning curve when using DocPress.
Using SurferSEO: Elevating my SEO Strategy
While my journey with DocPress is remarkable, I couldn't resist exploring SurferSEO to take my content optimization to the next level. I was immediately drawn to its AI-driven capabilities and the promise of boosting organic traffic.
However when I compared an article I had written in Google Docs with the same article added to Surfer, what surprised me the most was the exceptional score I received in Surfer SEO.
It indicated that my article was perfectly optimized without going overboard, as excessive optimization can raise red flags with Google.
However, it's also essential to stay up-to-date with the latest Google algorithm updates and adhere to their standards for effective optimization.
Optimization: Empowering Content that Ranks High
Surfer not only offers valuable real-time metrics for content optimization, but it also provides the ability to integrate with WordPress, anti-plagiarism tools and other AI-powered features and softwares. This integration allows users to further enhance the authenticity and originality of their content.
This combination of features makes Surfer a comprehensive and powerful tool for content optimization and creation.
However, it's important to consider some factors before making a decision, especially for beginners or those with budget constraints.
Additionally, if you're looking for a reliable anti-plagiarism checker, I recommend trying out Free Anti-Plagiarism Checker. This tool can help ensure the uniqueness and integrity of your content.
SurferSeo Pricing
Surfer SEO offers a range of pricing plans to suit different needs and budgets.
With Surfer SEO, there is a potential downside regarding the unused credits.
For instance, if you opt for the $69 per month plan, which offers 15 credits for 15 articles within a 30-day period, any unused credits will reset at the end of the month.
Pros of Surfer:
AI-Driven Optimization: Surfer's AI capabilities automate various aspects of content creation, saving time and effort.
Real-time Metrics: The platform provides valuable real-time metrics for structure, word count, NLP-ready keywords, and images to enhance content effectiveness.
Plagiarism Checks: Surfer's ability to verify the authenticity of articles helps avoid potential penalties and ensures originality.
Catchy Headlines and Outlining: The built-in Outline Builder assists in creating catchy headlines and detailed outlines, improving content structure.
Cons of Surfer:
Cost: Surfer's pricing plans, while offering robust features, might be considered expensive for individuals or small teams with limited budgets.
Learning Curve: The advanced features and capabilities of Surfer may require some time and effort to fully grasp, making it less beginner-friendly.
Conclusion:
My exploration of DocPress and Surfer was a revelation in the world of content creation and SEO optimization.
For beginners or those on a tight budget, it might be wise to consider alternatives or explore more affordable options like DocPress, which provides a cost-effective solution for content creation and integration with WordPress.
Experienced bloggers who are already proficient in SEO optimization might not find the advanced capabilities of SurferSEO necessary, especially when it comes with a higher price tag.
Subscribe to our newsletter below to get amazing new articles, promos but also tips and tricks.