Are tired of all sort of prompts in ChatGPT that take forever and then paste your article in Google Docs for finishing touches? Introducing the Advanced AI Writer, a simple interface that will create the best article integrated directly in Google Docs with the help of DocPress.
Introduction to DocPress for Google Docs

DocPress isn't just another Google Docs add-on. It's an ecosystem of AI-driven tools dedicated to streamlining the article creation process. Whether you're brainstorming fresh ideas, penning intros, or gauging SEO scores, DocPress has you covered. Plus you can export quickly your work to your WordPress blog in seconds.
Discovering the Advanced AI Writer in Google Docs
Google Docs now boasts an impressive addition to its arsenal: the Advanced AI Writer. Designed to aid users in swiftly generating articles, this tool utilizes the capabilities of Chat GPT, a cutting-edge AI.
Crafting Articles with Ease
To initiate your writing journey:
Choose a desired title or simply input relevant keywords.
The Advanced AI Writer takes over, leveraging Chat GPT to curate an article tailored to your specifications.
In mere moments, a structured article appears, ready for review or further edits.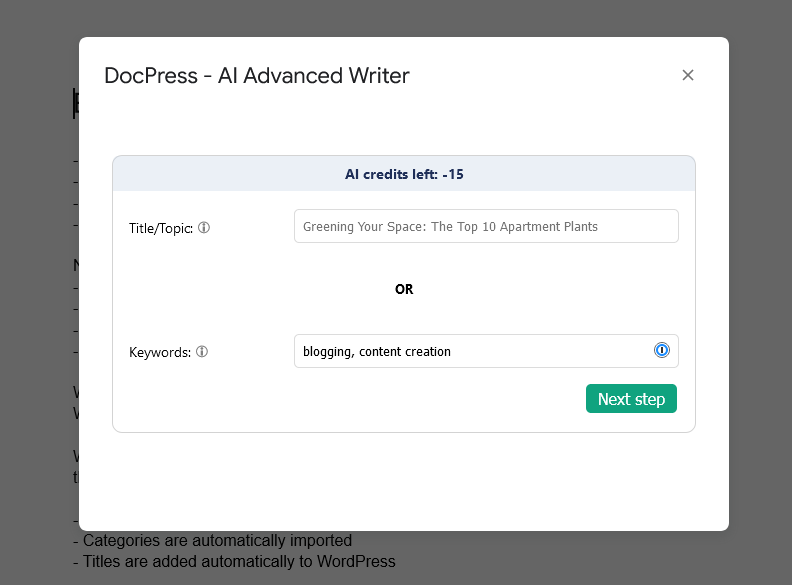 Personalizing Your Content
Beyond its auto-generating prowess, the Advanced AI Writer also offers customization options:
Style: Define the nature of your article, from formal to casual.
Tone of Voice: Ensure the content mirrors your desired communication style.
Text Length: Whether it's a brief 800 words or a deep dive, the choice is yours.
Plus, if you wish to interlace a 'call to action', like urging readers to download an SEO guide, that's an option too.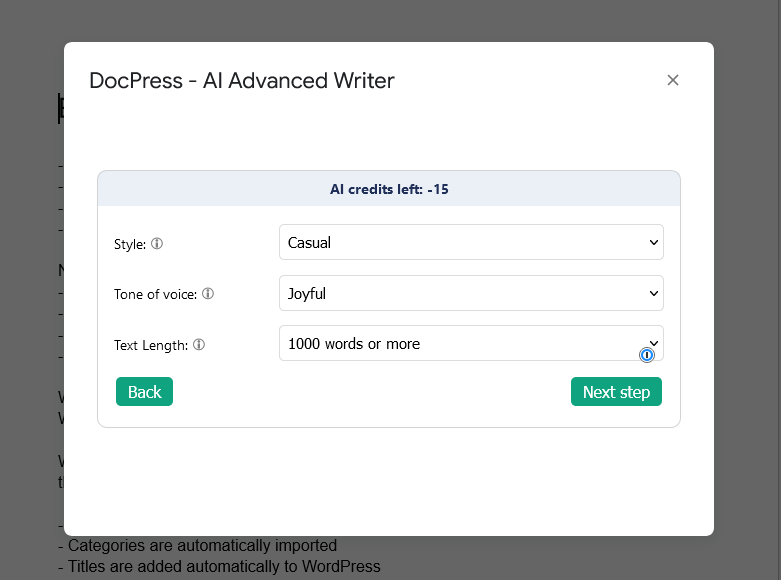 Unleashing Creativity with the Temperature Setting
This innovative setting allows you to dictate Chat GPT's creativity level. A higher temperature encourages more creative flair, while a lower one produces more conservative content.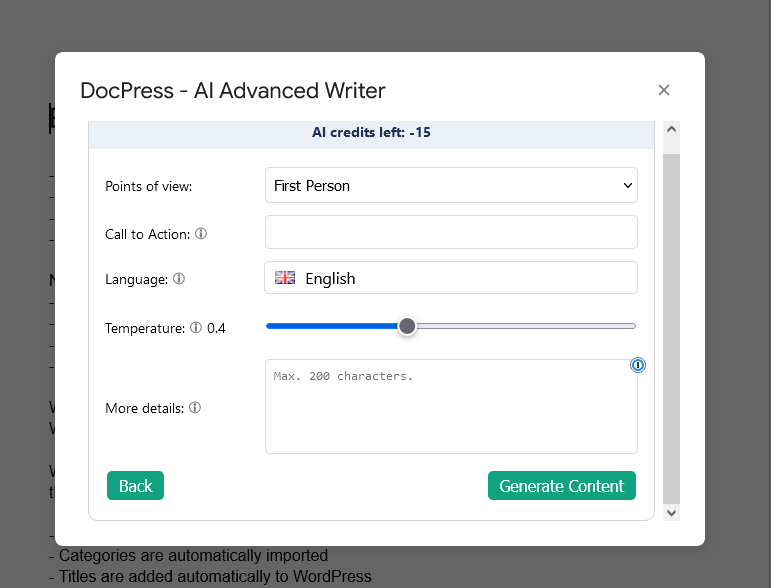 Refining and Editing: Perfecting the Draft
Once the AI presents its draft:
Engage in a review, tweaking content as necessary.
Format for clarity and appeal. For a harmonized WordPress look, set desired headings and text styles directly in Google Docs.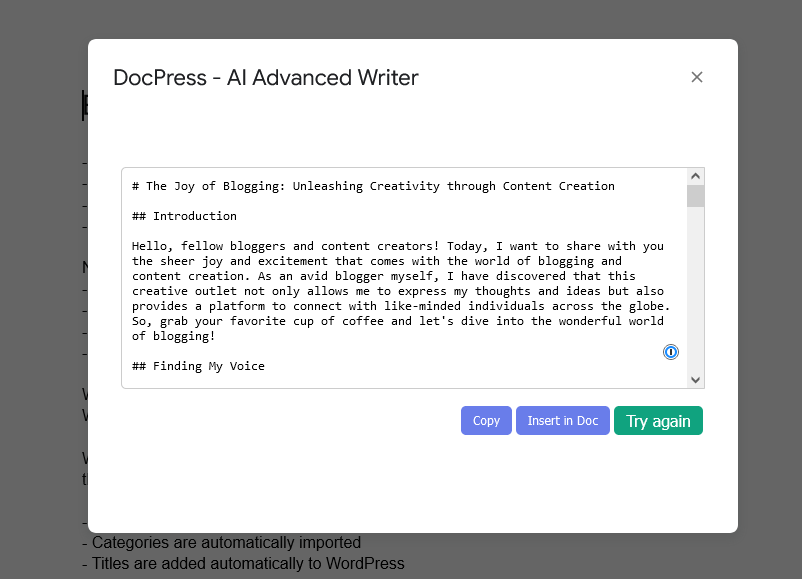 Expanding Content with the AI Sidebar
Ever felt a section could be more detailed? The AI Sidebar is your go-to:
Highlight the desired section.
Activate the sidebar, feeding it specific instructions.
This feature, distinct from the Advanced Writer, offers targeted content enhancements.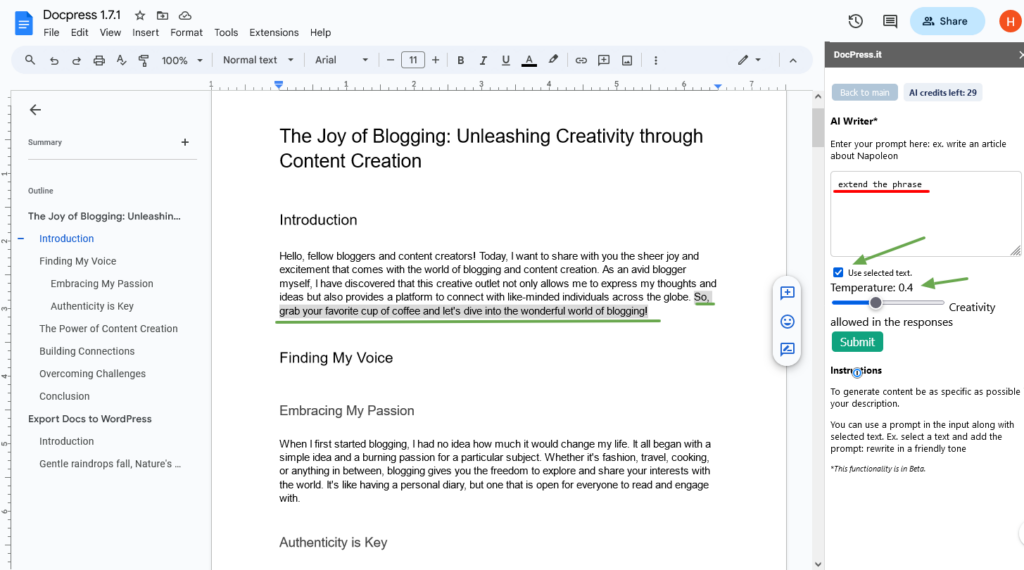 Image Integration: Beautify with Pexels
Every article benefits from relevant imagery. Directly from your document, access a vast array of free photos from Pexels, ensuring your content isn't just informative but also visually engaging.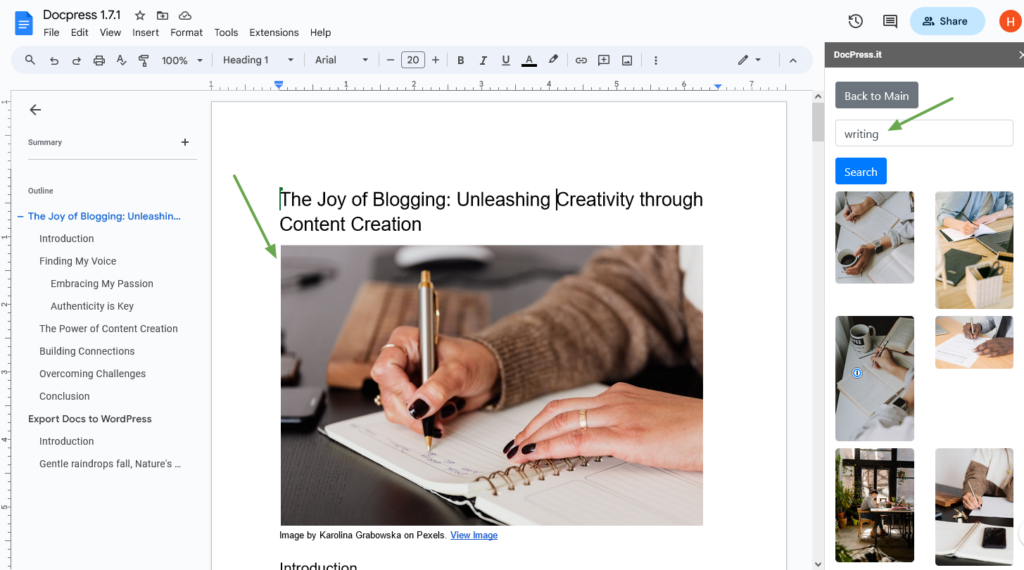 The Seamless Shift to WordPress
Content is ready? Time for the world to see:
Delve into the export settings tailored for WordPress.
From alt text to linking preferences, define every detail.
Opt to export as a post, page, or even a custom post.
Before hitting export, employ the SEO checker. It not only gauges your content's SEO health but also provides actionable insights for optimization.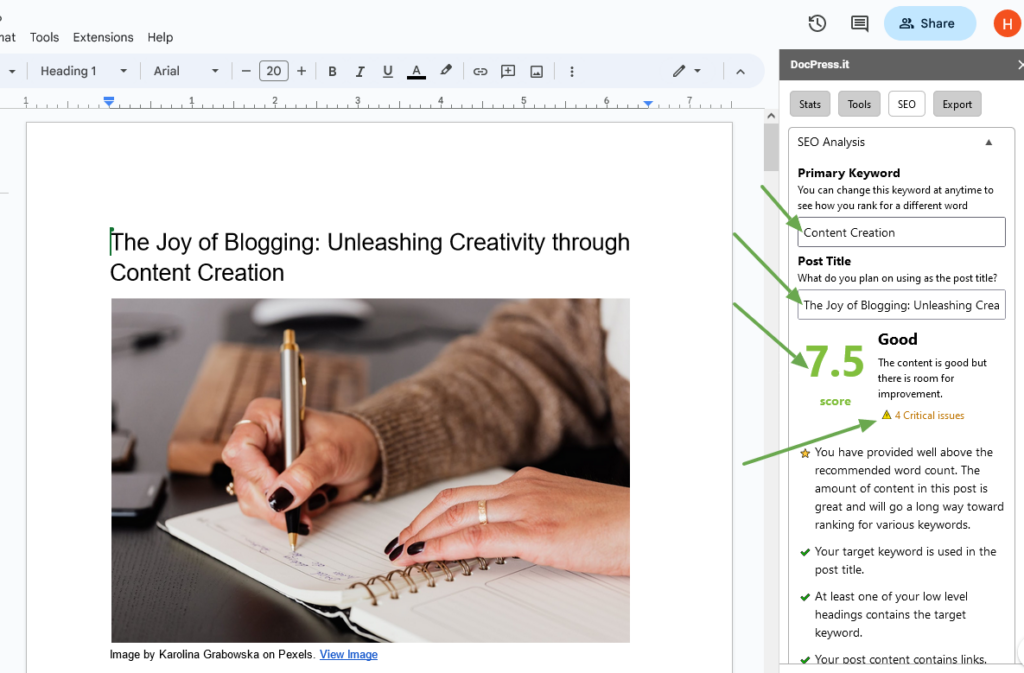 Finalizing in WordPress
Once ported to WordPress, make the last-minute adjustments to guarantee perfection. Be it spacing, categorization, or any other element, the platform offers all the tools you need.
Video Tutorial
Please see here a video tutorial on how to create articles with AI and all of the above.
Conclusion
With the Advanced AI Writer in Google Docs, content creation is no longer a time-consuming endeavor. It bridges the gap between rapid content generation and quality, ensuring your WordPress blog always features top-tier articles.
Dive in, and experience this revolution in content creation for yourself!
Install DocPress from the Google WorkSpace Marketplace.
Subscribe to our newsletter below to get amazing new articles, promos but also tips and tricks.