Google Docs is a fantastic tool for writers because it's so accessible and easy to use. You don't need special software or training to learn how to use it, and its word processing functions are incredibly intuitive and user-friendly.
That's particularly helpful for bloggers, who spend much of their time in their own heads, thinking about words and ideas instead of code or images. And Google Docs makes the process of writing even easier by integrating with other Google services like Drive, Sheets, and Gmail to give you one-stop access to everything you need as a blogger—from collaboration, comments, version history, outlines to final drafts.
What Should You Know When Moving Content from Google Docs to WordPress?
If you are like me and you write your blog posts in Google Docs and after that move them to a WordPress blog you know how frustrating the experience is.
There are countless steps you need to take to make sure the article is the same as you wrote it: editing  the headings, links, and manually adding the images.
Why Copy Pasting Content from Google Docs to WordPress Isn't a Good Idea?
Copying content from Google Docs to the WordPress editor adds unnecessary code to your blog post making editing a hell. This code needs to be removed manually.
Also your images need to be imported manually, all this takes time. Plus you need to add different SEO optiomizations for links, alt text for images, rename the images and more.
There are a few options that help you import the Google Docs to WordPress but all requires manual work, and here is where DocPress shines.
Introducing DocPress
DocPress.it changes the experience of exporting Google Docs to WordPress as a blog post. You no longer need to manually copy paste or uploading your content to WordPress, it can be done automatically from Google Docs.
DocPress offers a seamless integration of Google Docs with WordPress, you don't need a plugin connect or an intermediary software. You only need to install the Google Docs add-on, connect your WordPress site and you are ready to export the article to your blog.
Export Google Docs to WordPress Tutorial
Let me show how easy it is to export Google Docs to WordPress as posts in the video below. You can even export Google Docs to Markdown.
Step 1 – Install the DocPress.it add-on
Install the DocPress.it add-on from the Google WorkSpace marketplace. Click on Add-ons >> Get Add-ons and write DocPress in the search bar. Click on the Docpress add-on and then click the install button. A popup will show to log in with your Google Mail, please make sure you are logged in with only one account.
If you are logged in with multiple accounts some issues may appear. Allow the permissions and the add-on is now installed.
Step 2 – Start DocPress
Click on Add-ons>> DocPress.it and click Export. If you don't see the Export button please refresh the page and try again.
Step 3 – Connect your WordPress website with Google Docs
Wait a few seconds for the add-on to load, you will now see the site connect options. Here you can connect a self-hosted WordPress site or a site hosted on WordPress.com. Select the appropriate option for you and enter your site URL in the format: https://yoursite.com.
A popup will show to connect your WordPress site. If you are already logged in to your site you will see the Authorization screen, click the Yes, I approve this connection button. If everything is ok you will see the success screen.
Click close, the add-on sidebar will refresh and now you can export Google Docs to your WordPress site.
To add more than one site you have to be on a paid plan, see our affordable pricing here.
Step 4 – Choose your export options
Before exporting you have a few options to select, the most common options are pre-selected already. You can even add do basic SEO content analysis directly from Google Docs.
The add-on preloads your categories, so choose the category you want to publish the article. Please add the title of your article, you can change that in your WordPress site if you wish.
Our smart SEO options can help you automatize some of your manual work. Set alt texts for your images and they will be automatically renamed and with alt text added.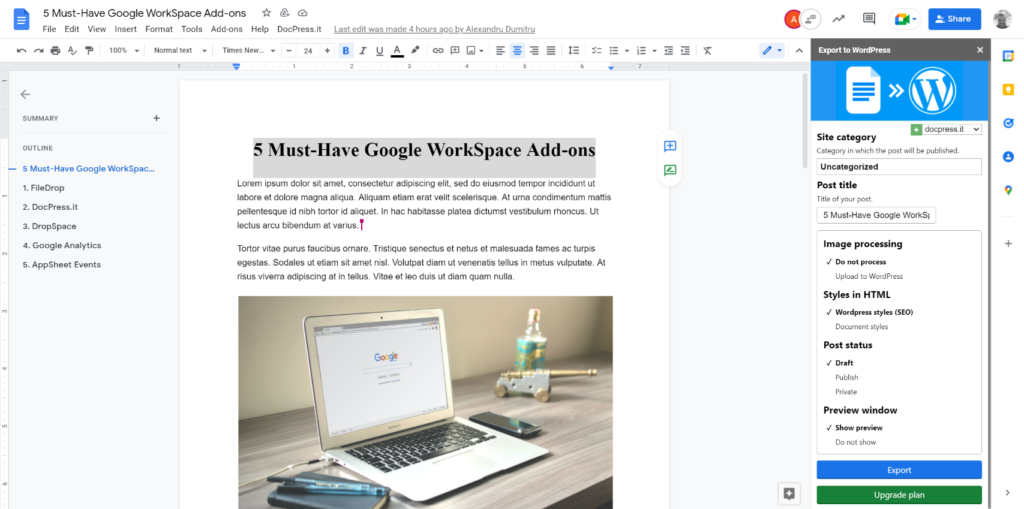 Step 5 – Export Docs to WordPress post
If you are ready to export your article click the Export button. A preview of your article will display, if it's ok click the "Create post" button and in a few seconds a success screen will display with the link to your article. Click the link and you will be taken to your WordPress blog preview for the finishing touches.
All the styles are transferred from Google Docs as a WordPress post including images. Yes, it plays well with the Gutenberg editor.
If you have h1 in the Docs this will be your post title. The first image in the Doc will be your featured image.
Now you can edit, add a featured image, tags or you can publish it as it is if you are happy with the result. If you want to rename your images to be SEO friendly you can use the Media File Renamer WordPress plugin.
Conclusion
Exporting articles to WordPress should be easy and that's exactly what DocPress.it is doing, making it easy for everyone that uses Google Docs to save countless hours copy/pasting, adding images again or other unnecessary tasks. It's the best alternative to any tool out there.
How much time do you save with DocPress?
Use the calculator below to see how much time and money you are saving every month with DocPress.it.
Frequently Asked Questions
Can I import Google docs to WordPress?
Yes, with DocPress you can move content from Google Docs to WordPress with just 1 click. Importing your Google Docs is easy, DocPress imports your images automatically as well.
Can I copy content from Google Docs to WordPress?
Yes, but in the process a lot of manual work will be needed to clean up your code, for long form content it takes up to 30 minutes to clean up the text and import images. DocPress automates all these process and exports the entire content just as it is in Google Docs.
Can I upload a Google Doc to WordPress?
Yes, there are a couple of plugins that upload Google Docs to WordPress but you don't need to do that, it's faster to export with DocPress. DocPress integrates your Google Docs with your WordPress site and the transferring content is a breeze, as shown above.
Subscribe to our newsletter below to get amazing new articles, promos but also tips and tricks.