Your brand needs to provide excellent content frequently if it wants to compete in this fast-paced environment. According to the first-quarter 2018 Nielsen Total Audience Report, the typical American adult today spends more than 11 hours per day consuming material, if you don't give your audience what they want, they'll go somewhere to find it. Faster than ever, high-quality content development is required because feeds are always updating with the newest styles and goods.
Content production can seem intimidating when you're initially learning the ropes as a blogger or content publisher. You'll be able to quickly create the greatest content for your followers and consumers across different media once you can connect a tried-and-true approach with simple tools to speed up your work.
Moving Content from Google Docs to WordPress Manually
First, let's take a moment to discuss the traditional way we publish content before moving onto how to use DocPress to publish content faster. The typical method of transferring written content from a Google Doc file is to copy it and paste it on your WordPress dashboard without using any add-on such as DocPress.
If you try to copy and paste directly from Google Docs to your WordPress article, you're likely to run into all kinds of formatting problems. You might even be taking every precaution as a writer to arrange the formatting exactly perfect by including all the headers, space, etc. However, everything disappears as soon as you copy and paste it into the WordPress editor. Lastly, WordPress frequently inserts additional line breaks when you copy your Google Doc across.
In the end, it's preferable to refrain from copying and pasting material from Google Docs into WordPress. It's a good thing there's Docpress to spare you all this trouble. Let's dig deep!
So, What is DocPress?
DocPress.it improves the process of converting Google Docs into a blog post for WordPress. It's no longer necessary to manually copy, paste, or upload your content to WordPress; Google Docs can now handle it for you.
You can export the article to your blog in a snap after connecting your WordPress site and installing the Google Docs add-on. Add blog posts to your WordPress site directly from Google Docs and increase your productivity. Automatically convert Google Docs to perfectly formatted posts on WordPress.
How DocPress Works
DocPress makes it simple for anyone who uses Google Docs to export articles to WordPress, allowing them to save endless hours copying and pasting, re-adding graphics, and other unneeded work. It's the finest substitute for any tool currently available.
The procedures for using DocPress are as follows:
Write Your Blog Posts in Google Docs
You don't need to alter your workflow when using DocPress. Write your blog posts and collaborate in Google Docs as usual. You can also add images and it will be automatically imported to WordPress as well.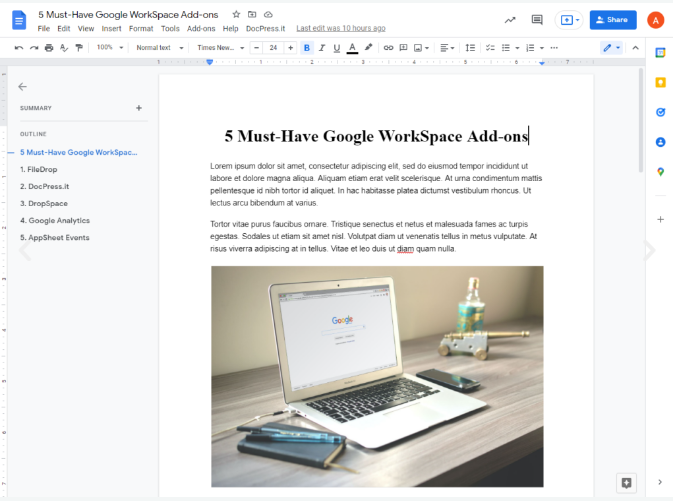 Analyze SEO Content
With DocPress, you can directly create and analyze SEO-friendly content in Google Docs and get a grade and improve your content's Google score. You receive 5 SEO content analysis credits with our free plan. You can run as many checks as you like with the premium subscriptions.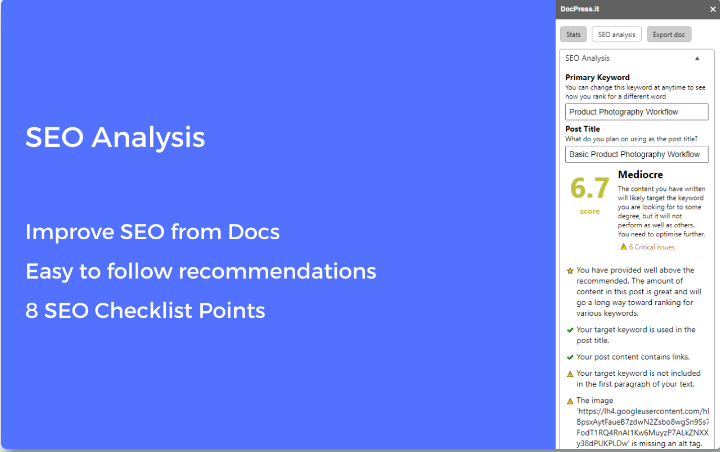 Directly from Google Docs, our SEO analysis tool checks for 8 SEO critical criteria:
Word count
Target keyword in title
Target keyword at the beginning of content
Headings: h1, h2, h3
Target keyword in lower headings
Use of images
Alt text for your images
Links to other sources
Export Docs
To export your articles to WordPress, you don't require another plugin. Through its secure API service, DocPress connects to your WordPress website. You may either add your post as a draft and finish it on your WordPress site or you can publish it directly from Google Docs.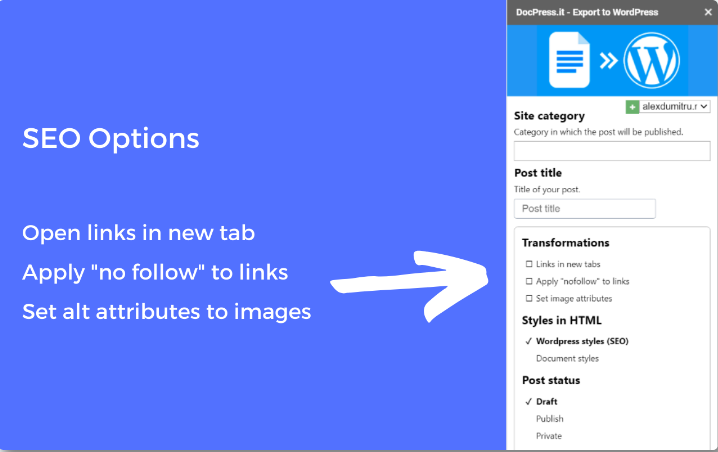 Export Your Content
You can publish your articles on one site with our free plan. The premium plans allow for the addition of up to 50 blogs. When you link your blog to DocPress, the categories for your blog are instantly imported and displayed for selection. You can also choose to publish your article on WordPress as a post or a page.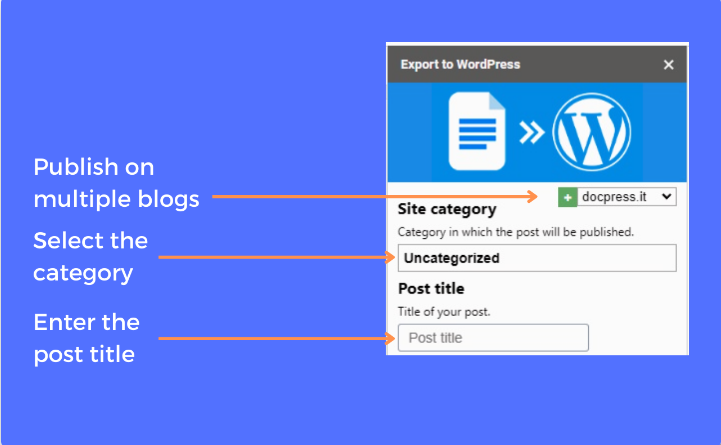 DocPress Features for Faster Content
Publishing should be simple and stress-free because producing high-quality material is difficult enough. Let's talk about several features that can increase efficiency in using DocPress.
Export from Google Docs – No plugins needed. DocPress offers a seamless integration between Google Docs and WordPress.
Sync categories – Your categories are synced and you can select the right category where you need the article published.
Export as Draft or Published – You can export as Draft and polish your article in WordPress or Private. Also, you can publish the article from Google Docs.
Word counter and other stats – Word counter, reading time, character counter plus other stats.
Readability score – Readability scores designed to indicate how difficult a passage in English is to understand.
SEO Analysis – Our SEO tool analyzes your article for 8 search engine optimization key points.
Perfect WordPress styles – Your article will look perfect on your blog, with clean styles(h1,h2, h3, links etc.) as you would expect it.
Image import – Your images will be imported in your Media Gallery automatically exactly how you would add them manually.
Post to multiple blogs – You can connect to multiple websites and publish to any blog you connected. Agency accounts can add up to 50 blogs.
Update published posts from Docs – If you want to update a published post, you can do it directly from Google Docs.
Export to Markdown – Export and convert your Google Docs to Markdown with one click.
Bonus Tip: Use AI Writing Tool For Faster Writing Process!
DocPress also offers a useful feature that allows you to create content with the assistance of an AI writer. AI writing features use natural language processing to create or improve written content based on a set of instructions that you give them. You can easily generate content landing pages, blog posts, articles, and even email marketing campaigns for your business using this AI tool. Therefore, it will expedite your writing process!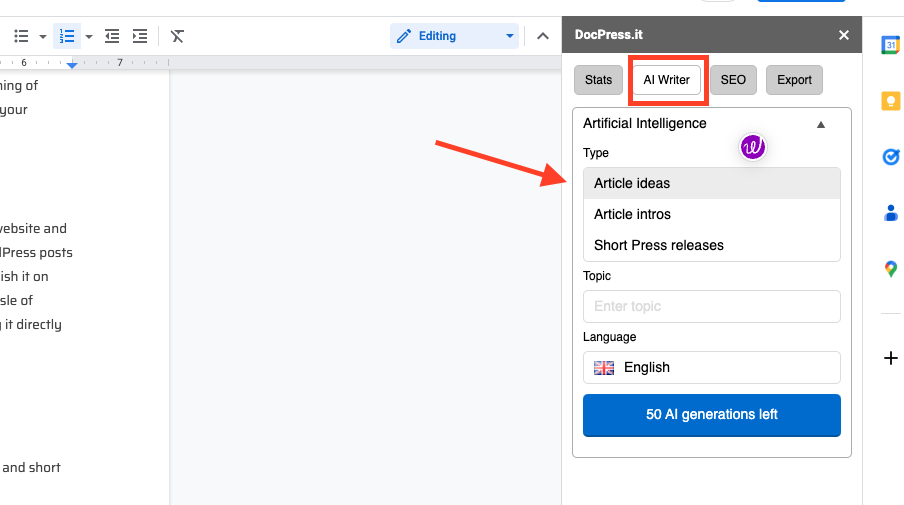 On DocPress Menu, you can see the option "AI Writer" which allows you to choose a content type below. Using this tool, you will be able to quickly create article ideas, article intros, and short press releases. You only need to enter your topic and preferred language, and you're ready to go!
Conclusion
Whether the blog is lengthy or not, publishing it manually takes a lot of effort, and it needs to be efficiently maintained. When you spend less time manually integrating high-quality blogs by using DocPress, you can focus on high-value tasks like growing your business.
Certainly, every marketer that cares about results should prioritize content execution speed. Thanks to DocPress, publishing a blog post from Google Docs on WordPress is now a different process.
Don't forget to download DocPress for free and begin hassle-free article publishing.
Subscribe to our newsletter below to get amazing new articles, promos but also tips and tricks.