Increasing audience engagement is a modern brand's biggest objective. The organizations place a strong emphasis on promoting the company vision and brand value in addition to their goods and services.
However, with so many various forms of content available, it can be challenging for brands to decide which ones to prioritize. Picking the suitable content type for your product and matching it to the appropriate customer's funnel will help you get the most out of your content marketing plan.
1. Blogs
Blogs are excellent written articles about a specific subject. A listicle, checklist, how-to manual, or any other kind of lengthy material might be a blog post.
The one that you're reading right now and the illustration below both serves as an example of blog posts: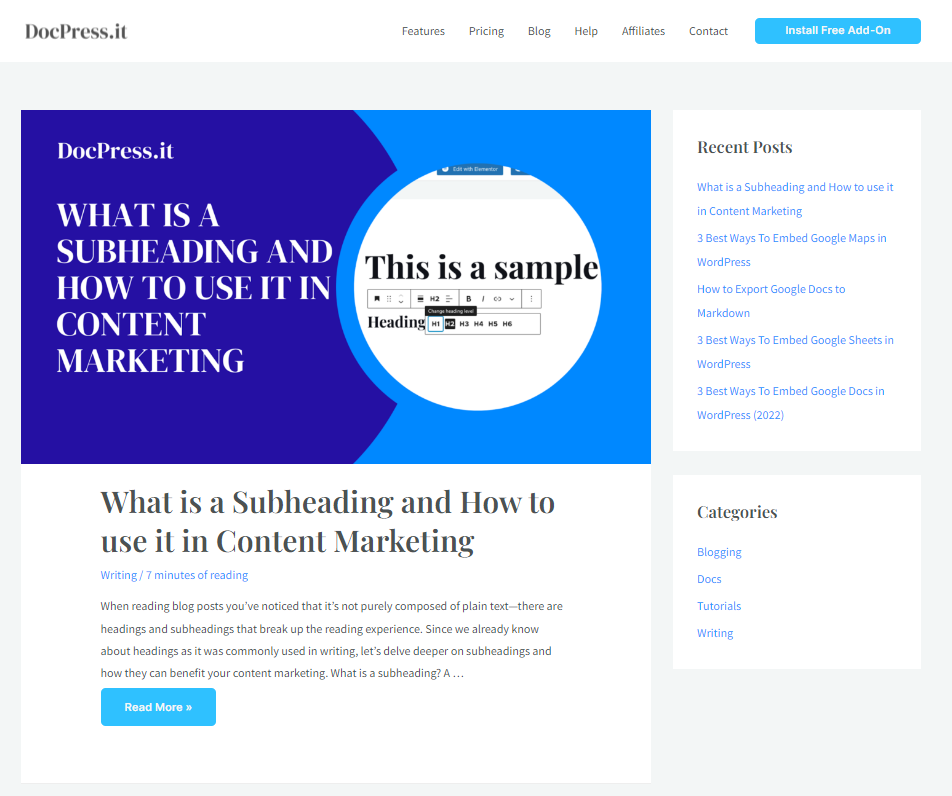 It is advised to adhere to the five essential stages when creating a blog. Selecting a topic is the first stage; creating an informative headline that appeals to readers should also be included. Writing, which is the second step, should be both sales-oriented and instructive. The third phase entails improving the blog's quality by including graphics and videos. The fourth step entails publishing the blog after final editing. Finally, the marketer needs to figure out how to produce and advertise blog content.
Having a blog that covers industry-specific issues can help you build your brand's competence and authority in your relevant field and help you win your consumers' confidence. Blog postings also help your website rank on search engines and have a high audience engagement.
2. Email Content Marketing
The most traditional type of content marketing is email. Another popular form of content known to provide marketers with exceptional returns. Its adaptability is one advantage of email marketing.
In this scenario, the company discreetly emails the targeted customers to advise them of the discounted offers, vouchers, and coupons or to wish them a nice day ahead. This is carried out in an effort to capture their attention and provide them a sense of high worth inside the corporate structure.
3. Infographics
An easy-to-understand overview of a subject is provided by an infographic, which is a collection of images, data visualizations like pie charts and bar graphs, and minimal text.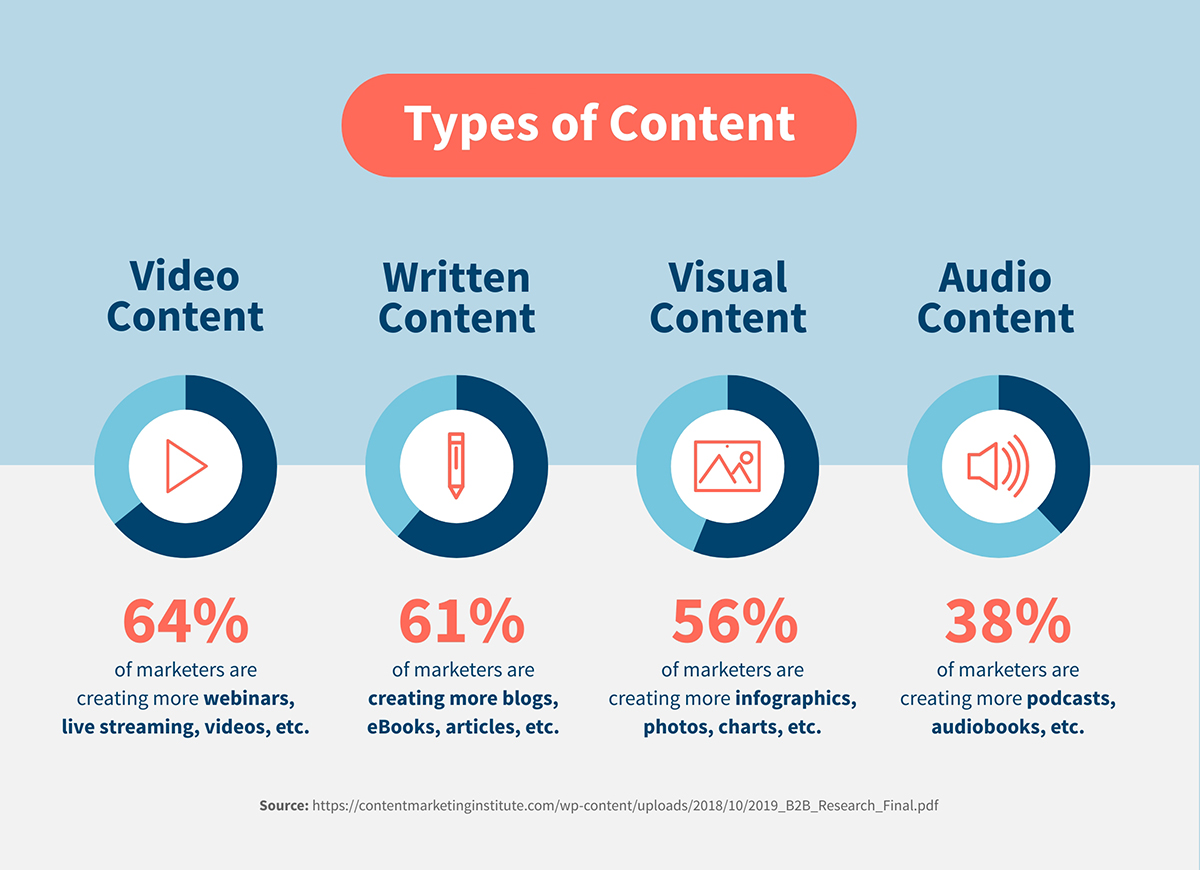 Designing an infographic is a complex process that requires careful consideration of a number of factors. In order to keep the artwork tidy and orderly, it's crucial to include a lot of white space. Many infographics employ complementary colors to keep viewers interested and divide their content into sections to keep information organized. Create a title that is descriptive and use easy-to-read fonts to enhance clarity.
4. Videos
A video is great material for content. Live videos, vlogs, animated GIFs, webinars, and filmed presentations are the most frequently used types of video content. It involves sharing information visually in order to express emotions, ideas, and personality qualities and improve communication.
Similar to other types of content, the main goal of a video should be to give value to your audience by addressing their needs, providing answers to their questions, resolving their problems, or delivering other pertinent information.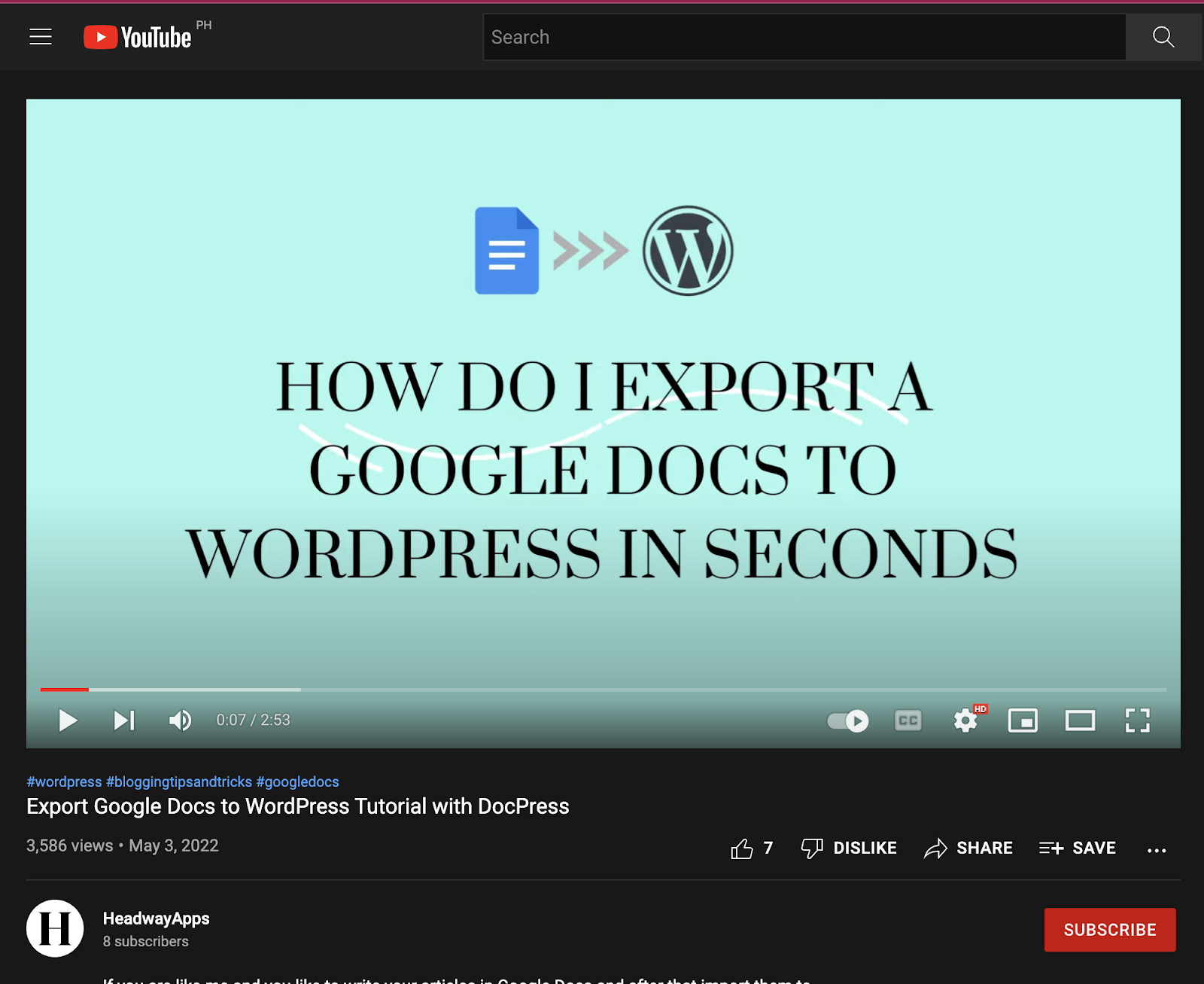 How to Export Google Docs to WordPress Tutorial with DocPress
5. Social Media Campaigns
On sites like Facebook, LinkedIn, Instagram, and others, there are billions of daily active users. It's reasonable to conclude that the majority of target audiences, including yours, are present on at least one social media platform.
Social media campaigns' material can quickly reach broad audiences. Additionally, it is effective at generating prompt responses from viewers on social networking sites. It helps businesses demonstrate their ideals and obligations to the community in an indirect way.
The social media campaign content should be created in a way that will appeal to all viewers. The community's culture should be shaped in a compelling, educational, and ethical way. Additionally, make sure to connect your social media posts to a content marketing objective, like increasing traffic to your blog or primary web pages.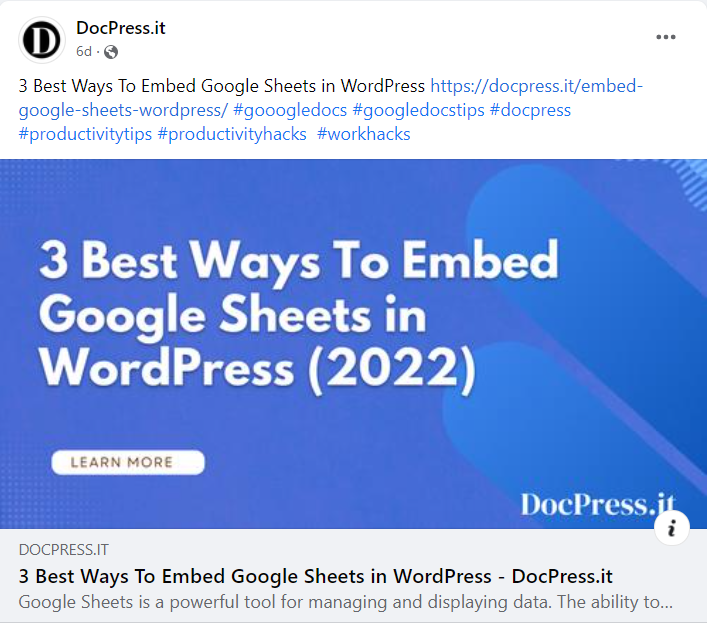 6. Whitepapers
The whitepaper is an essential sort of content that includes studies alerting readers about prospective and difficult issues offered by businesses based on philosophical concepts on an engaging topic.
What makes a great white paper is to conduct in-depth, comprehensive research to support all assertions and add value to the knowledge that is already widely available on your issue.
A formative email series can be created based on white papers that you publish on your website or generate gated content out of.
7. Testimonials & Reviews
Last but not least, any brand can benefit from evaluations and recommendations. They enable you to view the worth and power of your brand from the perspective of your target audience. People are more likely to pay attention to other customers' thoughts and experiences of a brand, therefore sharing positive customer reviews of your company can increase customer traffic and build brand confidence.
Here's an example of a testimonial:

It is a fantastic technique to promote products by sharing experiences and making claims to interested audiences who are still present. Usually, it is published on the official websites. Depending on their requirements, businesses can choose an influential, social, or quote-based testimonial.
Conclusion on Popular Content Types and How to Use Them
Considering that there are more than 100 different forms of content in total, there are plenty of ways to be successful with content marketing. Each one has a certain function, adheres to a set structure, and is well-liked by the society it serves.
You now know the various content formats that might provide your brand a competitive edge. Utilize DocPress for marketing solutions to advance your marketing strategy and start producing top-notch content.
DocPress is a Google Docs add-on with a free forever plan that helps you get started with your editorial workflow. You can also upgrade to any of our paid plans that match your blogging frequency. Subscribing also gives you access to our SEO Analysis and Readability score tools to help you rank higher and reach more people.
Install the add-on for free here or learn more by visiting DocPress.it.
Subscribe to our newsletter below to get amazing new articles, promos but also tips and tricks.