One of the most important aspects of an online marketing strategy is great content. A company may have a difficult time retaining customers and attracting new ones if it lacks great content. However, great content entails more than just creating interesting and engaging content. An effective piece of content must consider all aspects.
Creating checklists with all of the necessary criteria is one way to ensure that all of your posts meet your editorial workflow requirements. These checklists can be used during the content creation process or as a final step in the review process before publishing. In this article, we will discuss 10 of the most important parts of a Pre-Publish Checklist to streamline the content creation process and maintain editorial standards.
Content Type
You should understand that content is more than just words on a page!
There are numerous ways to publish content, especially when you consider that there are over 100 different types of content. For good reason, blog posts are one of the most popular types of content. Consistently publishing high-quality blog posts can bring in quality traffic, establish you as an authority, and nurture site visitors over time.
Despite blogging having been primarily used as a top-of-funnel tactic, an increasing number of other content types has proven useful. Below are some examples:
Emails
Social media content
Guides
Ebooks
Video content
Webinars
Case studies
White papers
Press releases
Additionally, it's important to remember that a successful marketing strategy is built on good content, which has always been and always will be. Also remember that content is also extremely customizable. It allows your company to control the narrative and tell your customers why they should consume your content and love your brand.
If you want to learn more about the different types of content and how you can use them to your advantage, check out our in-depth article on the subject: 7 Popular Content Types and How to Use Them
Structure & Formatting
The structure and formatting of your content have a direct impact on its readability. Anything that encourages them to read from beginning to end is worth your time. Whether you use punchy opening lines, visually appealing formatting, or a tried-and-true content structure template, all of these techniques have one thing in common: they all work. This is especially important if your content leads into a call to action encouraging users to buy a product, sign up for a newsletter, or subscribe to a service.
Your checklist should include numerous notes about the structure and formatting of your content. Below are some examples:
Use short, punchy sentences to draw readers in.
Transition to longer sentences that explain further.
Include headings to give your content structure.
Utilize a range of formatting including bullet points, numbered lists, bold and italic.
Spelling & Grammar
Grammatical errors do more than just make you appear foolish. Poorly written content creates a negative first impression, and your readers will want to leave rather than waste their time reading misspelled words and poorly constructed sentences.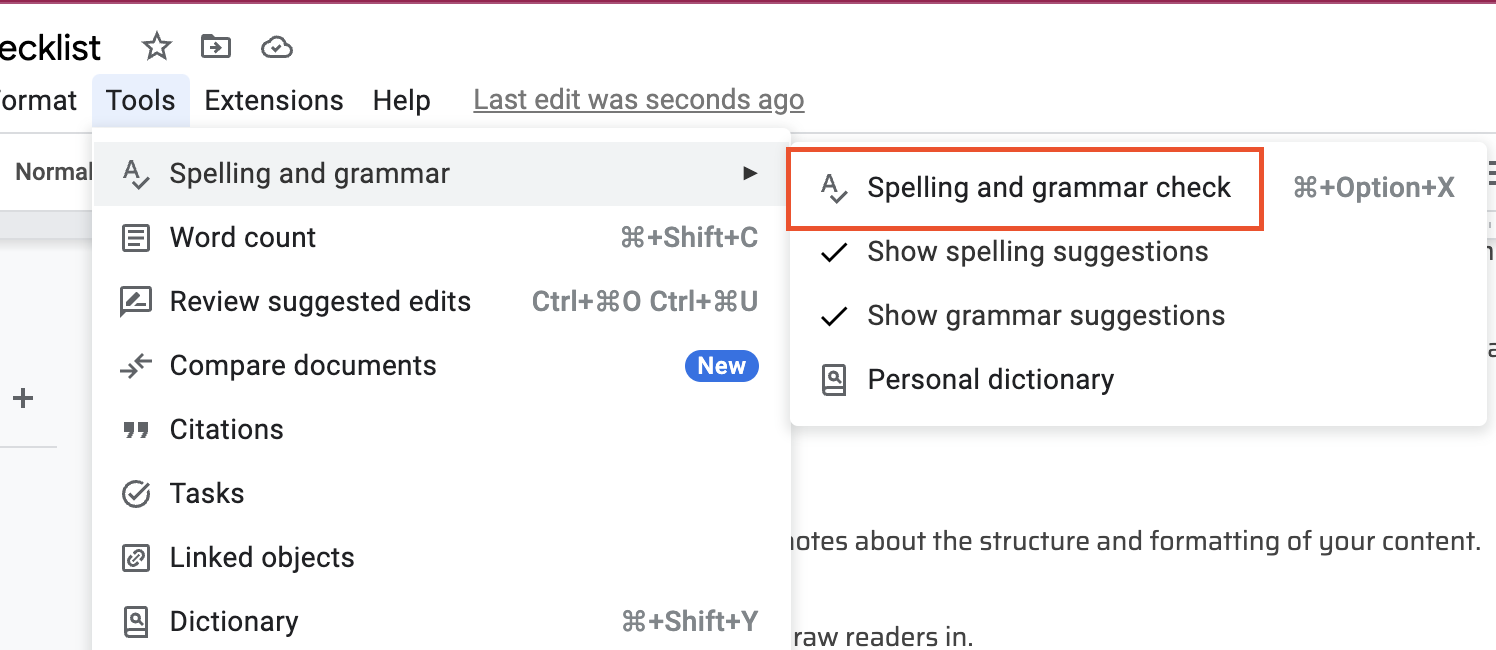 It might be a good idea to review your spelling and grammar with the following points.
Run your content through the built-in spell checker in Microsoft Word or Google Docs.
Check your country-specific spelling..
Depending on your target audience and their location, use appropriate US or UK spelling.
Grammarly or other grammar-checking tools can help you check your grammar.
Request that a friend or colleague proofread your content.
Set aside your content for a few days, then return to it with fresh eyes.
Content Length
What is the optimal content length? How long should your blog posts be? What is the ideal word count for SEO? These are questions you should include in your checklist first before publishing your content.
When it comes to content, length is important because users are more likely to share longer content. Longer content is perceived to be more valuable. In fact, the ideal blog post length should be 2,100-2,400 words, according to HubSpot data.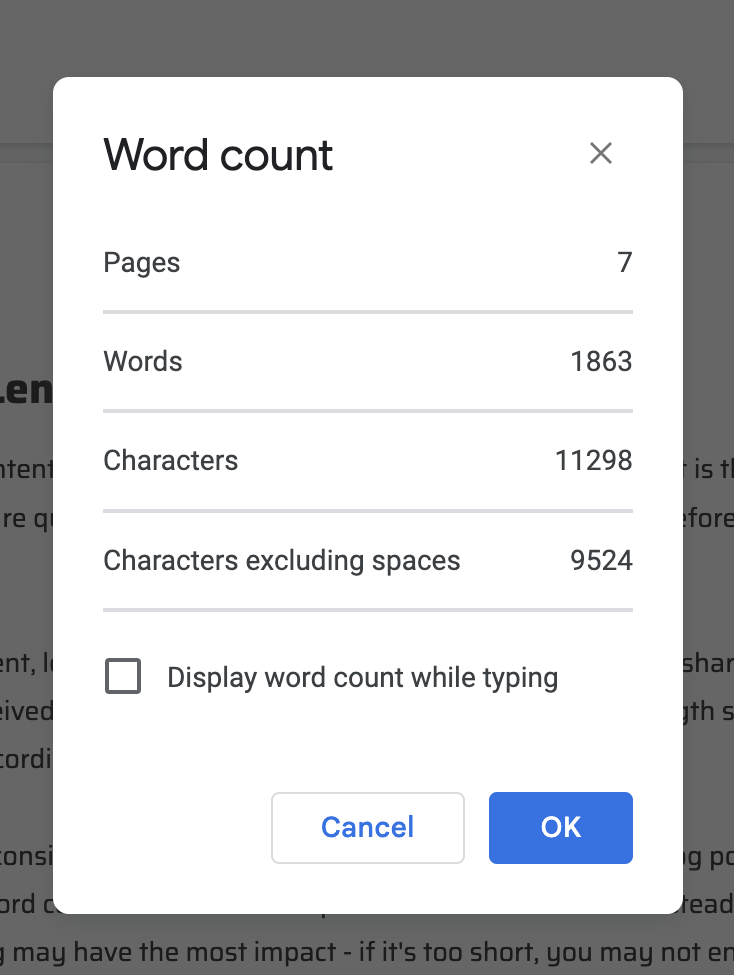 However, you have to consider that there are different types and formats of blog posts. When it comes to blog posts, word count isn't the most important factor to consider. Instead, the length of time it takes to read the blog may have the most impact – if it's too short, you may not engage the reader enough or share the most important information. If it's too long, the reader may tire of the post, become bored, or simply lose interest.
Practical Value
Ultimately, you need to provide users with useful information. So for your other pre-publish article checklist, you have to check the practical value of the content you're writing. Whether you're answering a question or solving a problem, you have to keep it practical.
Practical enhancements can even benefit content that doesn't lend itself to traditional methods of adding value. Perhaps a video that delves deeper into the subject or a list of resources for further reading can really add value. There's always room for a dash of practicality in any content.
Here is a sample checklist you can use to check the practical value of yours article
Include detailed instructions.
Include a pro-tip section
Include a key takeaway section
Include instructional images, videos, or both
Include downloadable extras such as.PDF guides and templates.
Keyword Usage
When you begin writing blog content, chances are you already have a topic in mind. With that said, you must never forget to use keywords that are relevant and related to the specific topic that you are thinking about.
Keywords are ideas and topics that define what your content is about. In SEO, these are the keywords and phrases that users enter into search engines, also known as "search queries." There are numerous free and paid tools available for conducting extensive keyword research.
The right keywords are critical to the success of your blog, increasing organic traffic growth. Thus, here is a sample of a keyword usage checklist.
Include keywords in your content's headline.
Add keywords to headings and subheadings.
Scatter keywords throughout your content, particularly the opening paragraphs.
Sneak keywords into image ALT tags and filenames.
Headings and Subheadings
Throughout your content, headings and subheadings represent key concepts and supporting ideas. Headings are the titles on your web pages which range from header 1 (H1) to header 6 (H6). Invisible pieces of HTML called heading tags are attached to text in order for it to appear as a heading.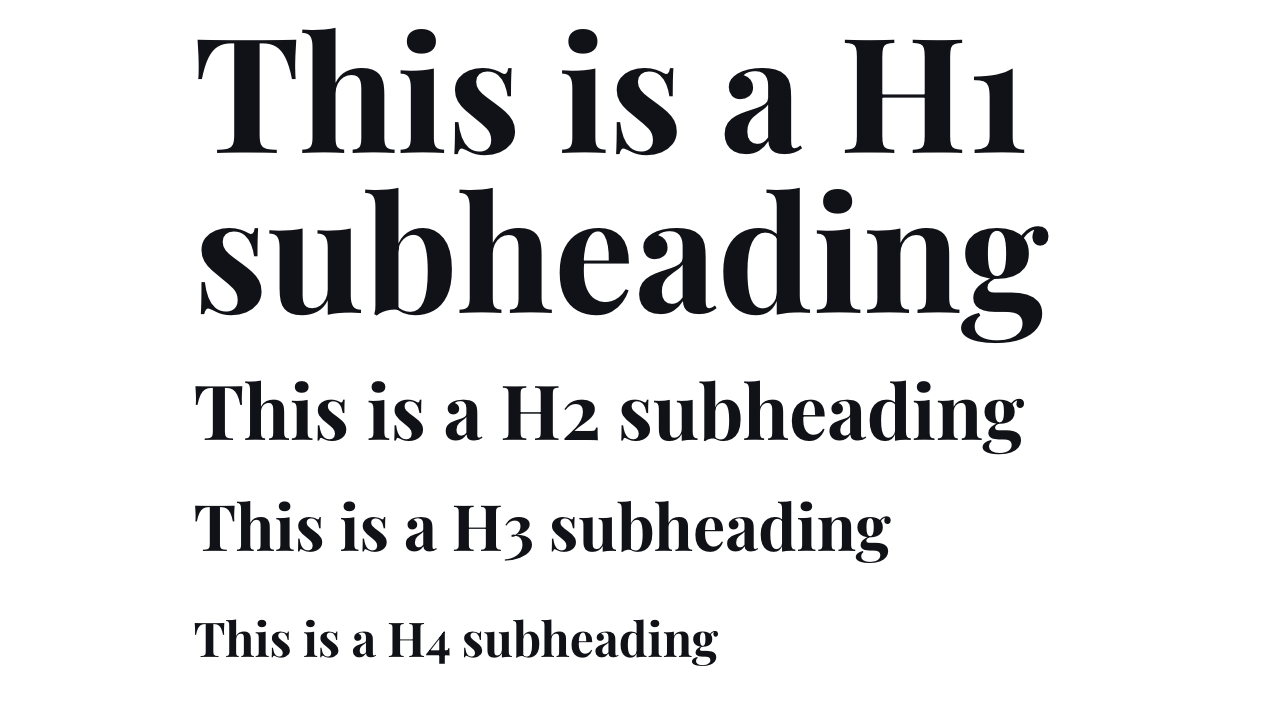 Headings help users and search engines to read and understand text. They visually convey importance levels and the text format differences help readers distinguish the main points from the rest. Lastly, headings define which parts of your content are important, and show how they're interconnected.
Below are some of the most important things to consider when checking your headings and subheading in your content before publishing.
They provide visual interest to otherwise boring content.
They provide your content with an easily digestible structure.
They break up large walls of text.
They provide the perfect opportunity to flex your On-Page Optimisation.
Include at least 1 H1 tag.
Include at least 2 or 3 H2 tags
Include a number of sub-headings from H3 through to H6, where possible.
Ensure headings contain at least 1 relevant keyword.
For more in-depth guide on subheadings, check out this article: What is a Subheading and How to use it in Content Marketing
Internal & External Links
To have great content and a strong SEO strategy for your website, you must always include and understand the internal and external links, as well as how they can add value to your content. Internal links are hyperlinks on one page of your site that take the reader to a specific page on your site, whereas external links take the reader to a reputable page on a different website.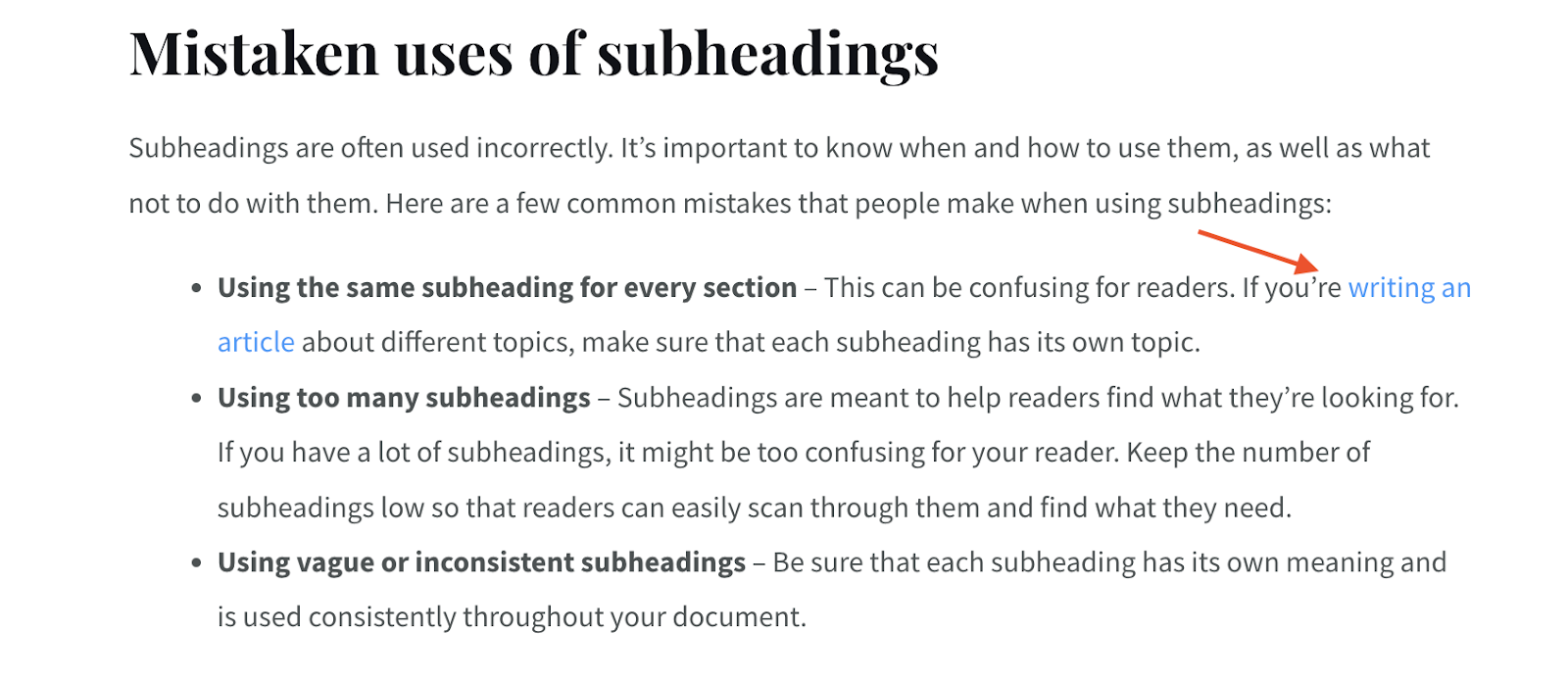 The inclusion of links in your content encourages visitors to spend more time on your page. These links are more visible to visitors and boost the authority of your pages and overall site as well as may entice them to become a client or follower. In fact, iInternal hyperlinks are frequently used as a call to action.
Here is a sample checklist to help you check if your content is linking internally and externally correctly.
Link to 3+ external site resources, guides or supporting information.
Link to relevant products or services that you offer but only when natural and appropriate.
Utilize relevant keywords within anchor text.
Add 3 links to articles on the target website's blog that support your content.
Add 1 link to supporting content on your own site.
Add 3+ links to other external resources, articles or discussion points.
Calls To Action (CTA)
More often than not, many online users will not do anything unless they are prompted. However, you should not let users go so easily. The ideal way to get users to share, sign up for, or download something in your website is to include a CTA or call-to-action.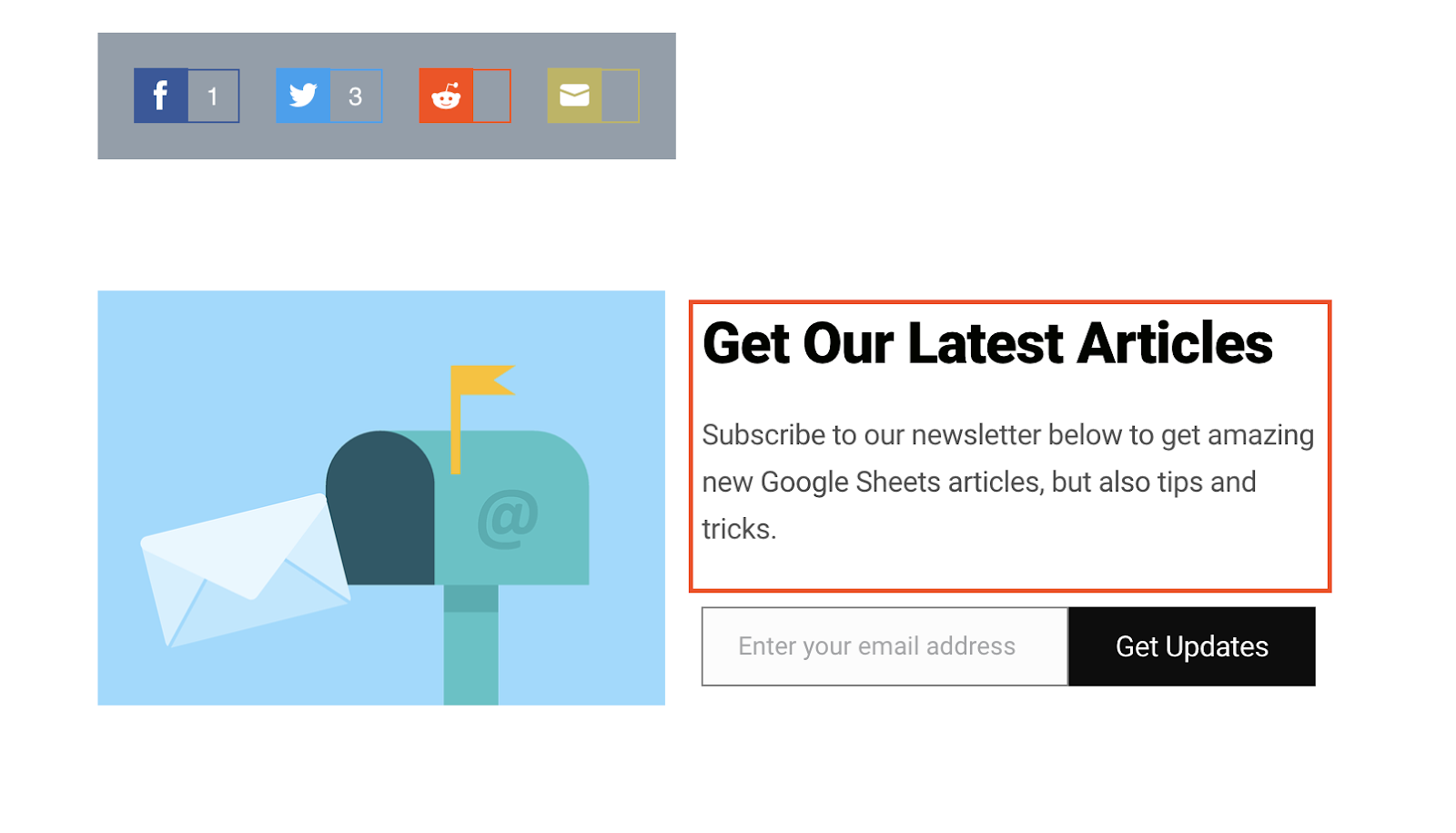 A call-to-action, or CTA, is a marketing term that refers to a piece of content, such as an image, a button, or a line of text, that encourages users to take a specific action. It usually takes the form of an instruction or directive with action verbs such as "buy," "sign up," "register," "follow," and so on.
You may include a checklist such as the following:
Add a major call to action at the end of your content that asks users to share, comment or sign up to your newsletter.
Experiment with alternative, interactive calls to action.
Use imperative sentences to direct or instruct readers.
Content Summary
With so many users now skimming, it's critical that your content continues to provide value to this time-pressed audience.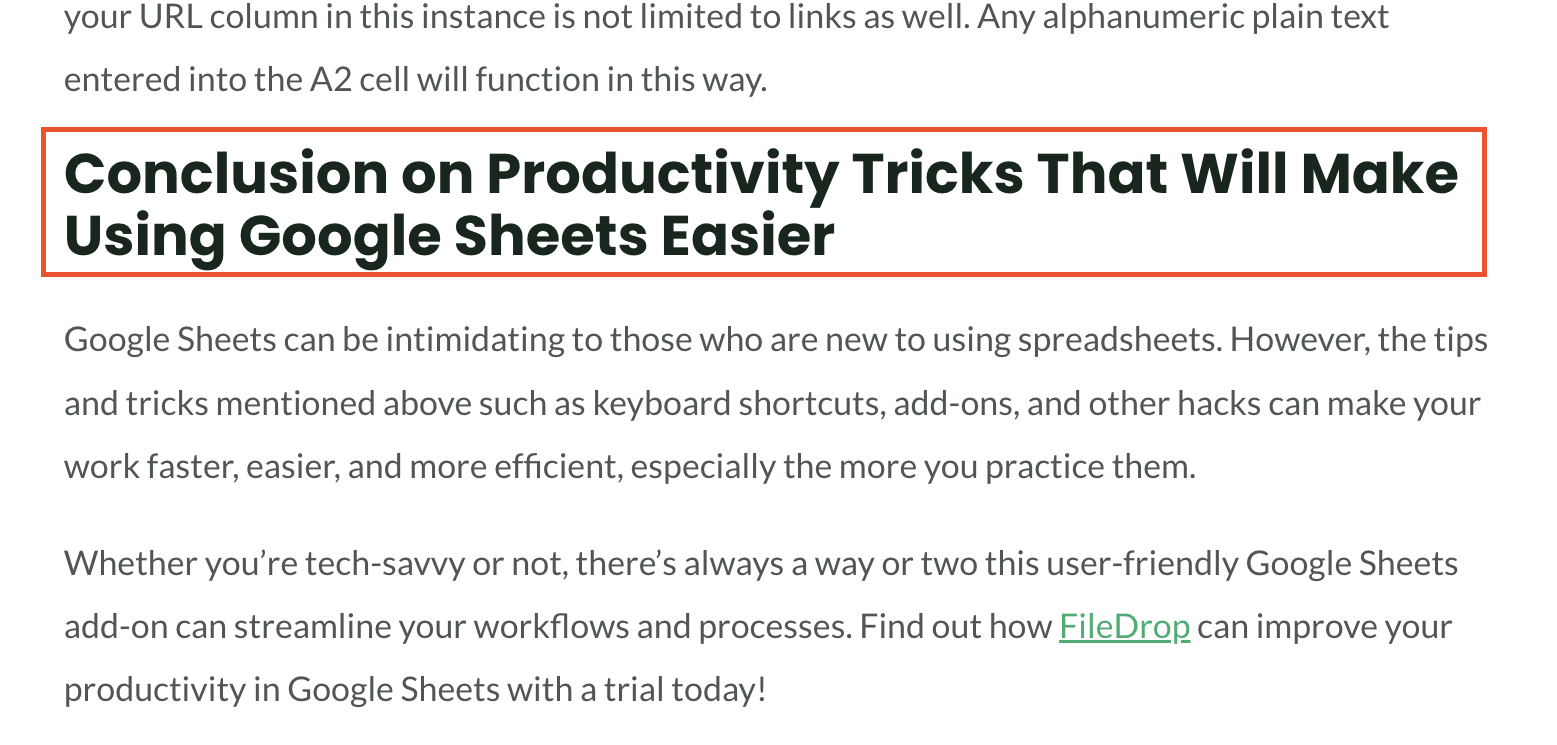 Including a content summary is the ideal way to accomplish this. Both summarizing your post for those who haven't read everything and providing a conclusion for those few who have read it from beginning to end.
Examples of what to include in your checklist are below:
Include a summary of between 150-200 words.
Highlight at least 3 major points covered within your content.
If you started with a story, the ending should be here.
If your content is in the form of a question, provide the key answer.
Conclusion on Pre-Publish Article Checklist
As you set up your Pre-Publish Checklists, you may find that editing workflow resources can be integrated directly into your WordPress website. To round out your editorial toolkit, consider installing the DocPress add-on complement Pre-Publish Checklist.
DocPress is a Google Docs add-on with a free forever plan that helps you get started. You can also upgrade to any of our paid plans that match your blogging frequency. Subscribing also gives you access to our SEO Analysis and Readability score tools to help you rank higher and reach more people.
Install the add-on for free here or learn more by visiting DocPress.it.
Subscribe to our newsletter below to get amazing new articles, promos but also tips and tricks.