Word processing tasks shouldn't be much of a chore. There are many great add-ons you can use to improve your Google Docs experience and saving you time. Whether you're writing a blog, your newsletter, product documentation, or other content writing for marketing success, we're confident you'll find something useful for your workflow in this article.
In this guide, we'll show you some time-saving Google Docs add-ons you definitely should be using right now.
How to Add or Remove Add-Ons in Google Docs
Add-ons are accessible by going to the top menu's Extensions > Add-ons.
.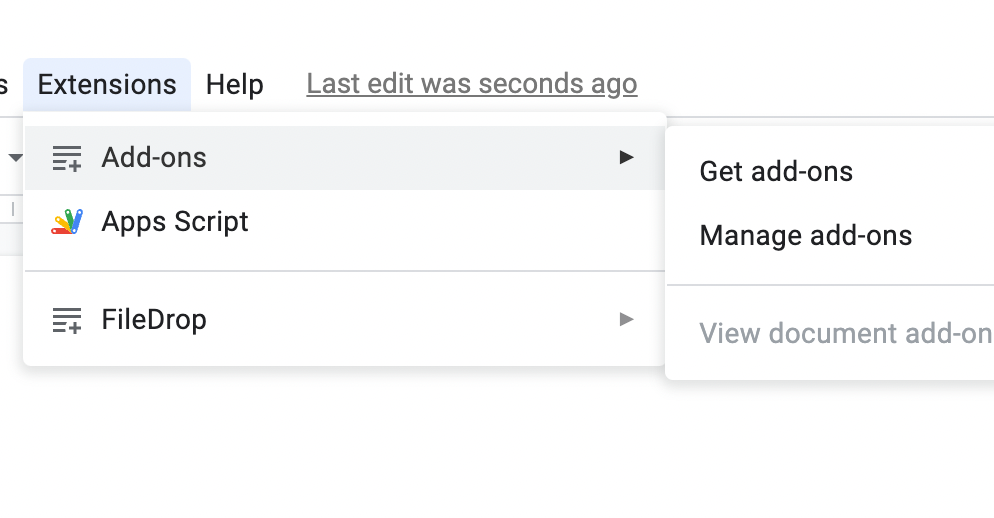 Select Get add-ons to open the Google Workspace Marketplace and find and install Google Docs add-ons you like. Once installed the new add-on may appear on the Extensions menu for you to use.
Select Manage add-ons to show all the add-on apps you have installed in your account. This is where you can Uninstall add-ons you don't want or don't need. You will also have shortcuts to Help resources and Report in the Manage section.
To remove add-ons, go to Manage add-ons click on the three-dot icon at the top right of an app and select Uninstall.
We'll add links to our featured add-ons in this guide for your convenience so be sure to check them out.
Our Picks for Top Google Docs Add-Ons
Now that you understand the basics of adding and removing add-ons, we'll show you some great add-ons you should start using now to be more productive and efficient within Google Docs.
1. Mergo Mail Merge
Manage your email marketing campaigns directly on Google Docs.
Creator: Scriptit
Price: Free trial available with paid plans starting at $1.5 per month
Link: Install Mergo Mail Merge for Google Docs
Mail merge is the automatic adding of names and email addresses from a list or spreadsheet that enables sending of marketing content such as newsletters, marketing copy, and offers to multiple contacts.
Mero Mail Merge is one of many mail merge add-ons available in Google Docs, Sheets, and Gmail. One of its defining features is being able to create campaigns directly from Docs like newsletters with customizable layouts. Recipient lists from a spreadsheet are used to send emails. It also allows you to turn a Google Doc into a Gmail draft.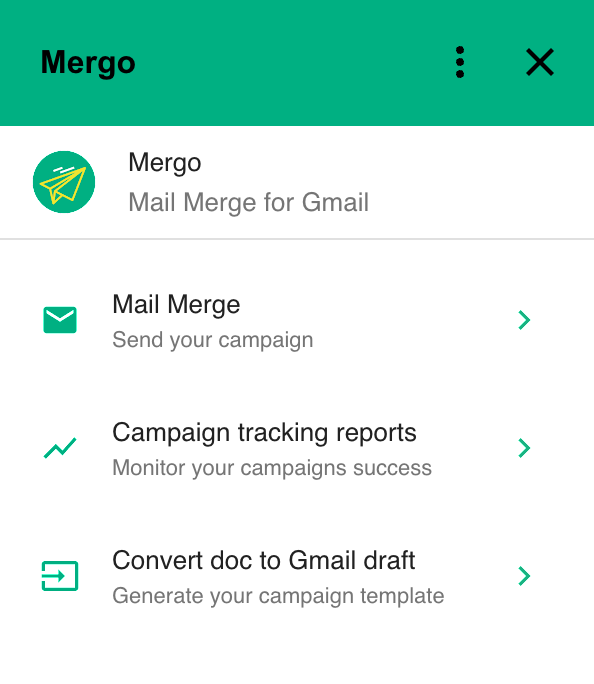 2. ImageSuggest

The Fastest Way to Find Free Images For Your Articles
Creator: Lyve
Price: Free trial available with paid plans for professional bloggers starting at $4.95 per month
Link: Install ImageSuggest
As a content writer or a business owner, your schedule can be extremely demanding including the time you need to make compelling content. Good news is that using this add-on tool can save you time by switching between tabs and figuring out how to find the best images for your article.
ImageSuggest uses AI to automatically find relevant, free images for your article. You can easily find great images from Pexels, Pixabay and Unsplash without leaving your Google Document. This add-on also has several features that you may find useful in saving time:
Get Image Suggestions within Google Docs
Insert suggested images directly to your content
Perform manual image searches straight from the sidebar
Filter images according to orientation and keywords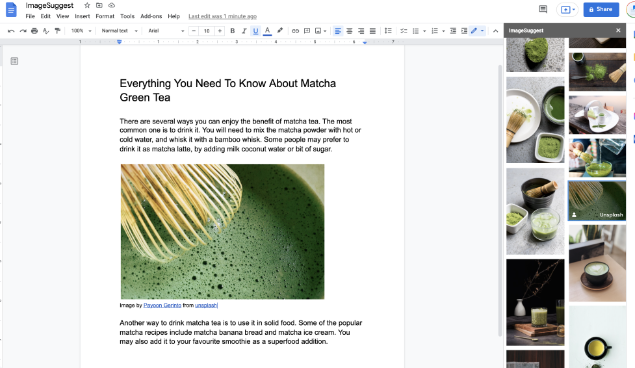 3. FileDrop

Drag and drop files and link directly within Google Docs
Creator: Headway Apps
Price: Free add-on | Premium plans with exclusive features offered
Link: Install FileDrop for Docs, Sheets
FileDrop is a powerful sidebar app for Google Sheets that allows you to insert any file type into Google Sheet cells using drag and drop. This add-on is extremely useful for bloggers and writers because it allows them to upload files directly within Google Docs and easily link to them using a drag-and-drop interface or a file browser/explorer.
Writing a compelling article does not always require long-form texts; there are times when images, infographics, and other illustration materials are required. Using FileDrop, you can add files that are already in your Google Drive using the Drive Browser, which functions as a file manager app. If you have a writing team, this is an excellent collaboration tool.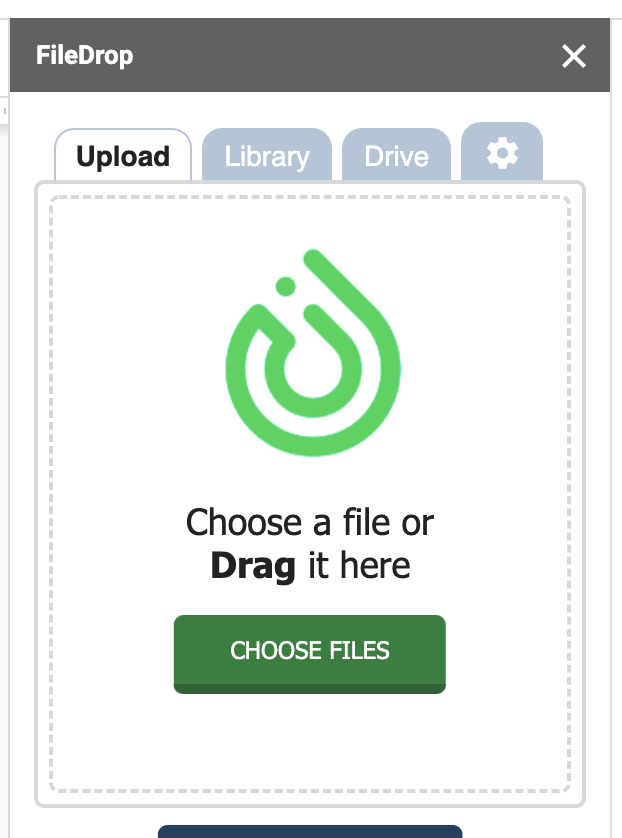 Moreover, a search function is available if you need to find a particular file in Google Drive quickly without leaving Google Docs. This experience is made better by a File Library that keeps your recent history so you can easily track your files and reuse them across multiple documents.
On top of that, it has some very nifty features like Optical Character Recognition (OCR) that works with image files or PDFs that you upload or ones that are already in your Google Drive account. For example, a writer can upload a photo or scan of a printed letter, and then FileDrop can perform OCR so you can copy text items directly and use that in your workflow. Check out FileDrop today!
4. Easy Accents for Google Docs

Insert accents for different languages directly from a sidebar.
Creator: Daniel Baker
Price: Free | Premium plan available
Link: Install Easy Accents for Docs
The Easy Accents add-on makes adding accents easy by having the option to add them via a sidebar. This is great for people who regularly have to use accented characters from different languages. Definitely a timesaver for those who are using standard English keyboards.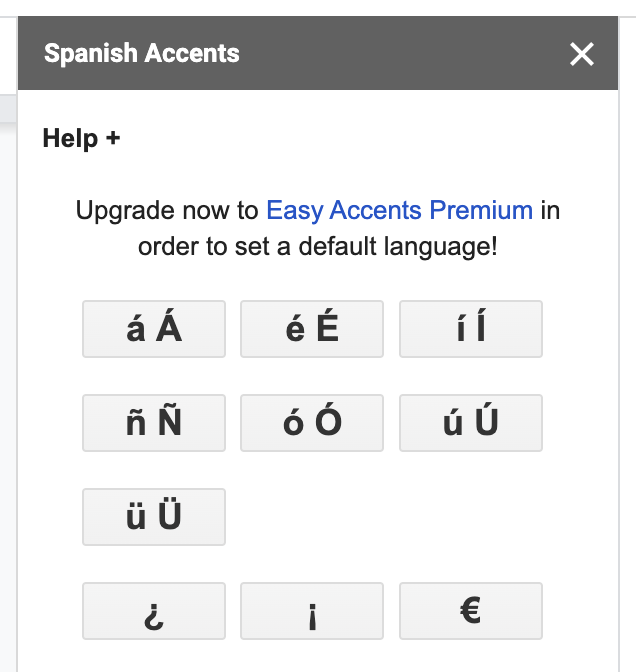 5. Grammarly

Improve the quality of your content effortlessly
Creator: Grammarly
Price: Free account available; Premium plans start at USD 12 for individuals and $15 for teams per user.
Link: Visit Grammarly
Grammarly is one of the most popular writing tools today. While Google Docs already has a robust grammar, spelling, and punctuation function, Grammarly brings in a host of more specialized suggestions powered by AI. It can eliminate wordiness, improve clarity, and check your word choice. The premium version also helps fix tone, formality, and word variety. The business subscription for teams adds style guides, snippets, brand tones, and analytics on top of team admin tools.
While Grammarly isn't a native Google Docs tool, it is an add-on that is run at the system or browser level. For Google Docs, you may install the versions for Windows or Mac; or browsers like Chrome, Firefox, Safari, and Edge. Note that if you use other browsers such as Brave or Opera, the Grammarly Google Docs assistant function will not work and you will be told to run it on Chrome.

6. DocPress

Publish Google Docs directly to your WordPress
Creator: Headway Apps
Price: Free
Link: Install DocPress for Google Docs
Our very own DocPress add-on is fantastic for bloggers, writers, marketers, publishers, affiliates, and other teams looking to save 20 to 30 minutes per article by publishing their work directly from Google Docs right into WordPress. If you're manually copying and pasting your work from Docs to WordPress for 10 articles a month, that means having DocPress could save you up to 5 hours of valuable work.
Documents made in Google Docs retain their formatting, styles, and images without installing any plugins on your WordPress site. Everything happens in the background, safely and securely.
Its secondary use is providing you with SEO-focused stats and analysis via the sidebar providing you with information like word count, characters, reading time, and more.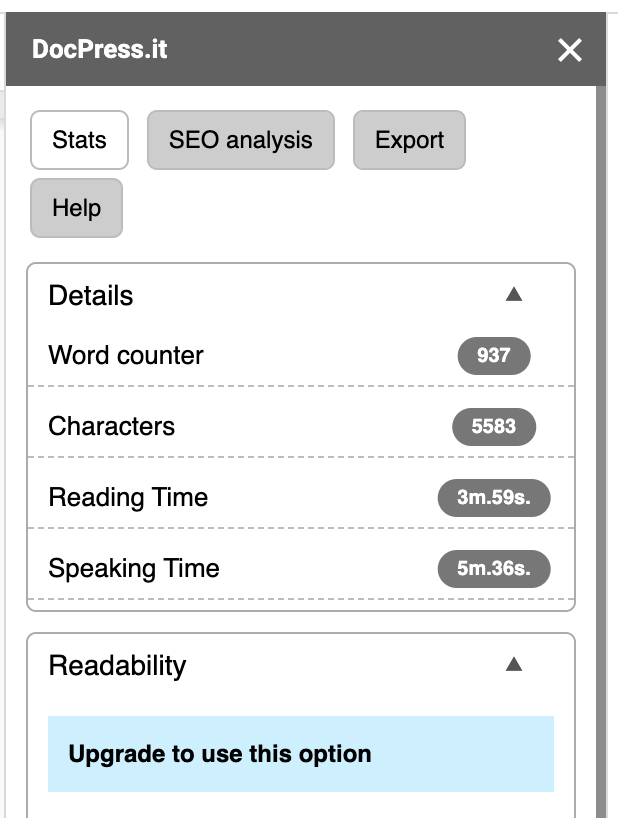 DocPress is offered either as a free forever plan with up to 5 exports per month. The paid plans start at just $5 and provide access to SEO Analysis and Readability scores.
Install the add-on for free here or learn more by visiting DocPress.it.
7. Doc Builder

Store frequently used text snippets and reuse later with one click.
Creator: Floreysoft
Price: Free
Link: Install Doc Builder for Google Docs
Doc Builder is a nifty add-on that saves you time by organizing a library of frequently used text snippets. For example, your call-to-action statements, disclaimers, or product information can be saved as snippets that you can paste into your active document effortlessly. Formatting can be easily edited to match your current document's style or a preset one.
This add-on is wonderful for technical writers, marketers, content creators, and bloggers who can save a lot of time and energy previously used in rewriting everything and risk losing consistency.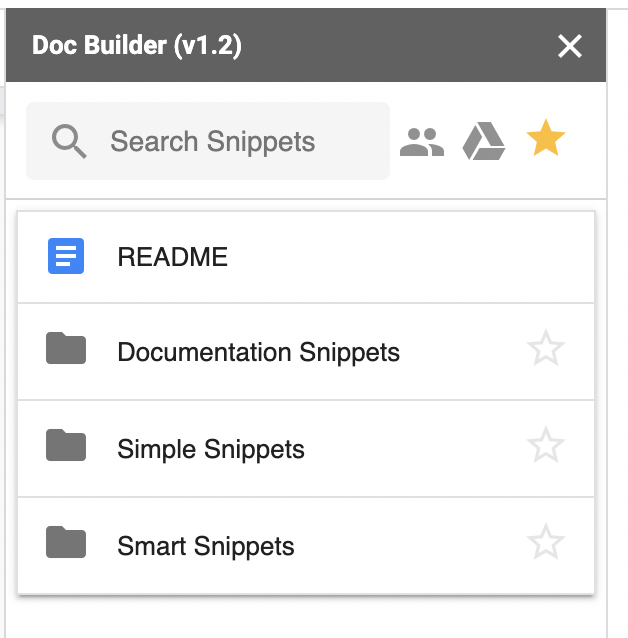 Conclusion on Time-Saving Google Docs Add-Ons You Should Have
There are literally endless possibilities with Google Docs thanks to third-party add-ons. Using time-saving tools is an obvious choice if you're looking to maximize your time and work smarter instead of harder. We hope you'd figure out which of these add-ons you should add to your workflow.
Check out DocPress today! It is a Google Docs add-on with a free forever plan that helps you get started. You can also upgrade to any of our paid plans that match your blogging frequency. Subscribing also gives you access to our SEO Analysis and Readability score tools to help you rank higher and reach more people.
Install the add-on for free here or learn more by visiting DocPress.it.
Subscribe to our newsletter below to get amazing new articles, promos but also tips and tricks.